Where can you connect to me (Devin Ulibarri) on social media?
I am often asked this question. Here is the short answer.
Mastodon, Gnu Social, LibreFM, and BuddyPress
Gnu Social — (Down as of January 2020) https://loadaverage.org/pikurasa
BuddyPress — Right here on this website. Visit my profile page (currently members-only) and activity feed (currently members-only). You can also subscribe to the feed via RSS (open to non-members).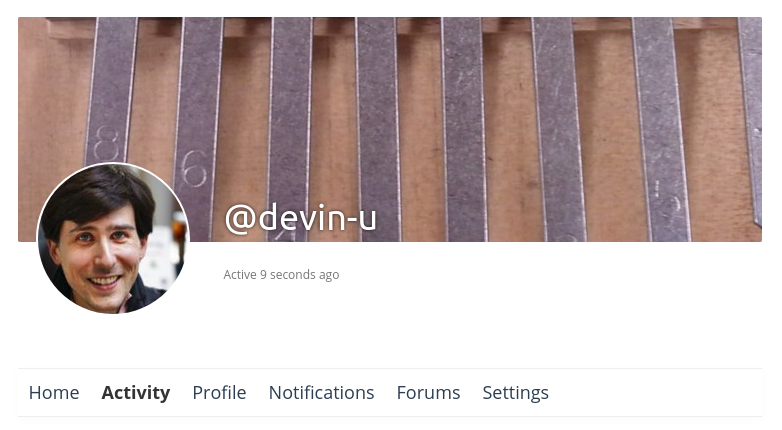 What about Facebook and Twitter?
The short answer about Facebook is that I stopped being used by Facebook about four or five years ago. I have no desire to start again. There are a lot of good reasons to quit, and I would consider starting again to be a step backward. That being said, I do have access to, and publish on, the M.A.P. Family Learning Center's Facebook page at https://www.facebook.com/MAPFamily/ If you send a message, or reply to a post on that page, I can get back to you.
As for Twitter, I never started using it in the first place. Similar to reaching me on Facebook, I co-manage and monitor the MAP Family Learning Center Twitter feed at https://twitter.com/@MAP_learning Twitter does not systematically capitalize on surveillance of individuals, so I do not find it to be as bad as Facebook.
More about BuddyPress on this site
I have set up this site to have its own social media capabilities. The following picture is a screenshot of features available only to members. You will gain instant access to private messaging, friend-ing, group creation, and member-only forums.

Certain activity on BuddyPress is public, but if you want to send private messages or create groups you must be a member first. Memberships start from as little as $5 and will give you complete access to BuddyPress on this site. There are no ads and, unlike Facebook, I do not deal in surveillance capitalism, but you do need to be aware that this site's data is not yet on a dedicated server and is currently accessible to gandi.net.