Interested in exploring the free world of digital streaming? True to the "geek" in me, I have spent some time curating some of my work on a few freedom-respecting websites. This website will, by far, be the most comprehensive repository of my work (see my Music Portfolio). However, for those who want to explore a restriction-free reality, I offer some of my work on these websites as well.
The following sites have general policies that 1) streaming/downloading does not require the use of non-free software and 2) works published must be under a free (as in freedom) copyright licenses such as creative commons, you can find some of my work on the following sites.
archive.org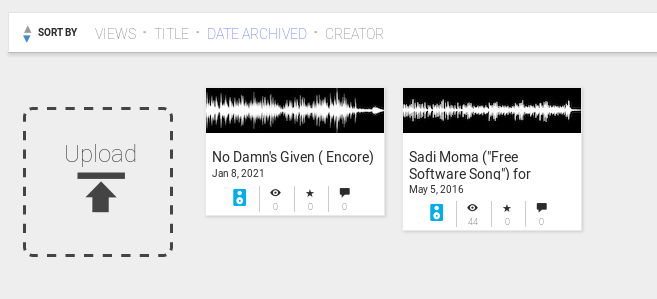 archive.org — https://archive.org/details/@pikurasa
Archive.org, a.k.a "Internet Archive" is probably the only website that will last well past an apocalyptic event. The site archives nearly everything published to the internet, and if you want to see what a website today looked like ten years ago, this is the place you should go. It also has a place for musicians and artists to publish their work.
What is the benefit of publishing work on archive.org? Great question! For one, this site will probably last forever (with help from donations, of course). Another reason is that it does not require users to log in or pay, which allows for greater accessibility. I hope you will take the time to check this site out, as well as my modest few publications.
Libre FM

LibreFM — https://libre.fm/artist/Devin+Ulibarri/
Libre FM is an interesting project. It allows users to stream music continuously. I have a few pieces published here and a user page at https://libre.fm/user/pikurasa
An Ongoing Project
Contributing to the "Free World" of music streaming is not particularly easy as it requires communication and coordination with the developers and maintainers of these websites, who are frequently working as volunteers out of their belief of their work's overarching importance. If this sort of work is interesting to you, please reach out to me (comment below or via the contact form) and please consider becoming a member of devinulibarri.com to help me sustain my efforts.